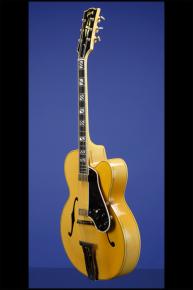 Listen to this Guitar
Hear Arnie Newman demo this guitar
A Custom-Color Johnny Smith Double -- "The Only One".
1967 Gibson Johnny Smith JS-D.

This custom-color JS-D weighs 7.50 lbs. and has a very comfortable nut width of just under 1 3/4 inches and a scale length of 25 inches. Tiger maple back and sides, X-braced carved spruce top, three-piece curly maple neck with two walnut strips and a medium to thin neck profile, and ebony fretboard with 20 jumbo frets and inlaid pearl split-block position markers. The top of the guitar has seven-ply binding, the back of the guitar has five-ply binding, the headstock has five-ply binding, and the fretboard has three-ply binding with two lines on each side. Headstock with inlaid pearl "Gibson" logo and pearl five-piece split-diamond inlay. Two-layer (black on white) plastic truss-rod cover. Black-painted headstock rear face with serial number ("510930") lightly impressed into the back. Orange label inside the bass f-hole with the style ("Johnny Smith") and the serial number ("510930") in black ink. Individual Kluson Sealfast tuners with tulip-shaped metal buttons. Two Gibson "Johnny Smith" floating mini-humbucking pickups with outputs of 7.09k and 7.03k. Marbled pickguard with five-ply binding. Five controls (two volume, two tone, plus three-way pickup selector switch) on pickguard. The potentiometers are stamped "137 6325," "137 6636," and "137 6806" (CTS June 1963, September 1966, and February 1968). Black plastic knobs (the pickup selector with a metal top). Adjustable ebony bridge with pre-set compensating saddle and pearl inlays on base and small L-5 style tailpiece with ebony insert and plastic nameplate. All hardware gold-plated. This guitar is in excellent plus (8.75) condition. There is some finish checking to the body, a surface-finish only seam crack (which measures approximately 7 inches) in the center of the top of the guitar underneath the tailpiece, and a small split (which measures just under 1 inch) on the edge of the guitar by the bottom of the bass bout (where the binding joins the body). The gold-plating is slightly tarnished. Although this guitar was apparently not shipped until April 1967, it has a 1965 serial number ("510930") and all of the features of a 1965 guitar. Apparently one of the pots has been changed, as it is dated February 1968 and we know from the Gibson records that this guitar was shipped from the factory on April 9, 1967 (see note). Housed in the original Gibson black hardshell case with brown plush lining (9.00).

"Jazz guitarist Johnny Smith endorsed a Guild in the 1950s, then moved to Gibson in 1961. His namesake model in the Gibson line is a fully acoustic guitar with a solid carved top and 'floating' pickups. It has the body size, X-pattern top bracing, and 25-inch scale (none standard Gibson specifications) of Smith's personal D'Angelico guitar. Gibson introduced a single-pickup Johnny Smith in 1961, followed by the double-pickup model in 1963. It remained Gibson's top 'artist' model until Smith's endorsement agreement ended in 1989" (George Gruhn and Walter Carter, Electric Guitars and Basses: A Photographic History, p. 77).

Introduced in 1961 (with one pickup), the Gibson Johnny Smith combined classic body styling with unprecedented technical innovation. The JS debuted the world's first floating humbucking pickup, and resurrected the classic X-braced top, a design used by Gibson in the 1930s. This model also revived the more generous 1 3/4" fingerboard, a favorite of finger-style players, and introduced a 25" scale (similar to that of Smith's D'Angelico guitar), to facilitate stretch voicings without sacrificing response. Finally, the body was an 3 1/8" depth, making it just that much easier to hold. The result is an instrument unique in playability, tonal response, and aesthetics. The visual design of the Johnny Smith is drawn from a number of top-of-the-line models as well. The 17" Venetian cutaway body and deco tailpiece are those of the L-5C, the neck and peghead are from the Super 400, and the opulent 7-ply body binding recalls the classic Epiphone Emperor.

We contacted Walter Carter to ask about the Gibson shipping record for this guitar. Here is his letter to us, dated October 12, 2004: "The Johnny Smith is logged in as 'JSD - Cream.' JSD is Johnny Smith Double. The date is not clear. It looks like someone wrote 4-9-60 and then wrote a 7 over 60. Some of those dates are written in with a single digit for the years, so I'm guessing that it's 4-9-67. There are other instruments with this same serial number, so that is likely the cause of confusion. I have seen only one other instrument with a cream or TV yellow type finish (not counting LP Specials), and that was a J-45 from around 1941. I've never come across that finish in Gibson records. I learn something new every day."