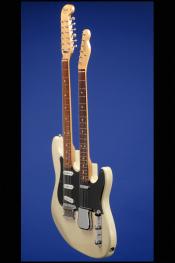 "One-Of-A-Kind"
Fender Custom Shop Telecaster / Electric Xll by Fred Stuart

Offset asymmetrical double cutaway solid body. This unique double-neck Telecaster / Electric Xll weighs 13.40 lbs. and is a one-of-a-kind instrument specially designed and built by Master luthier Fred Stuart in late 1991 (completed in January 1992). The guitar features a beautiful asymmetrical double-cut, one-piece see-thru blond light-ash body with wonderful bluish 'veins' showing through.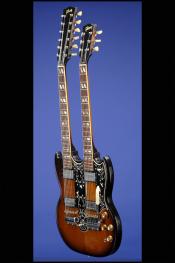 Stairway to Heaven…
One of Only 4 Double-12's Made in 1966

This custom-built double-neck (conventional six-string neck in the lower position combined with a twelve-string neck) weighs just 10.50 lbs. Both necks have a nut width of 1 9/16 inches and a standard Gibson scale length of 24 3/4 inches and both have a quite thick neck profile. Solid mahogany body with bevelled edge (16 1/2 inches wide and 1 3/8 inches deep), two one-piece mahogany necks, and bound rosewood fretboards.